Fyshwick recycling plant to receive 900 tonnes of rubbish every a day
The proponents of a recycling plant planned for Canberra's east say they will not resort to stockpiling, in spite of China's ban on foreign waste.
An environmental impact statement has been lodged for the Capital Recycling Solutions materials recycling plant in Fyshwick.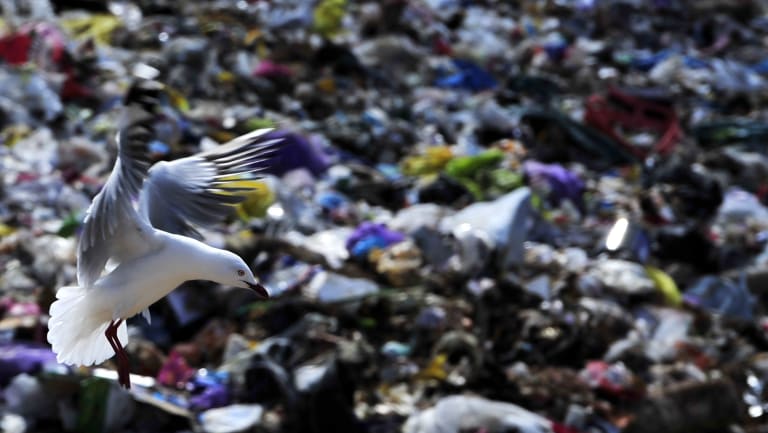 The company plans to divert 300,000 tonnes of rubbish from the Mugga Lane tip to its plant a year, extracting the recyclables and exporting them using the adjacent rail freight terminal.
It claims it will be able to salvage about 60,000 tonnes of recyclables a year that would otherwise go to landfill.
The rest will be fed into compacters, placed in waterproof shipping containers and sent to the Woodlawn bioreactor at Tarago via the rail line.
The environmental impact statement states Woodlawn is a "better engineered" landfill, providing 16 times the electricity of Mugga Lane.
RELATED ARTICLE
The original proposal had been to burn the leftover waste for electricity on-site, however after public blowback over the health impacts, that plan was put on hold.
Capital Recycling Solutions Adam Perry confirmed the incinerator was still on the backburner, despite federal energy minister Josh Frydenberg directing the Clean Energy Finance Corporation and Australian Renewable Energy Agency to prioritise waste to energy projects.
"I believe we will see it in Australia one day, but perhaps not for some time. It is not part of our current proposal," Mr Perry said.
A quarter of the recycled materials would be re-used locally but the rest would travel by rail to ports to be sent overseas.
Mr Perry said some recyclable plastic would need to go to landfill because of the China ban, unless other solutions emerged.
However, he said the ban largely impacted unsorted and contaminated plastics.
"Many clean and sorted plastic products can still be recycled, such as clean PET, PVC and HDPE. We still have a strong paper and cardboard recycling market within Australia. Then of course we have metals, which are always readily recyclable," Mr Perry said.
"We anticipate that there will a large proportion of inert material in the commercial waste stream, such as bricks, concrete, plasterboard, glass and clean timber, all of which can be supplied to existing recycling/processing businesses within the ACT. Our model is to divert materials from landfill where possible, to existing recycling markets."
In the absence of those markets, Mr Perry said material would not be stockpiled on-site.
He said in most cases, waste would be processed in a matter of hours and baled for recycling or packed into containers for delivery to Woodlawn.
If the plant could not operate because of an emergency, the company has proposed to redirect waste back to Mugga Lane or another facility.
If there is a problem with the rail line, it plans to truck the waste containers to deliver waste to other landfills or to Port Botany.
The plant is expected to receive an average of 900 tonnes of rubbish a day, 12 hours a day, 6.5 days per week.
It is expected to process 75 tonnes an hour across two lines.
All waste loading, unloading and processing will occur inside the negative pressure environment of the main building, created by a ventilation extraction system that rotates the air in the building five times an hour via a nine-metre vent stack.
A 20,000-litre leachate tank will be installed to capture all run-off from the floor and around the processing equipment.
Trucks will tip waste into the building, where it will be examined for hazardous waste. After the recyclable material is extracted, the residue will be placed into containers and exported.
They will enter through fast-opening vinyl doors to maintain the negative-pressure environment and contain the odour.
Analysis by The Odour Unit determined these measures would contain most of the "fugitive odour" within the site boundaries, predicting no impact for nearby Narrabundah residents.
However a health assessment included in the environmental impact statement said some surrounding commercial and industrial areas could be affected, depending on the effectiveness of the odour control measures.
The estimated noise of the plant equipment was found not to comply with daytime noise restrictions, and a southern boundary acoustic barrier was recommended to fix this. However the noise expected to be generated between 6am-7am still did not comply, even with the sound barrier.
The plant would generate an extra 230 truck movements a day, with waste arriving across a 16-hour window.
The company said the additional trucks would be about a 5 per cent increase in the existing truck traffic and would mean an extra 14 trucks going through Newcastle Street and Canberra Avenue at a time when 3000 vehicles were driving on there already.
"As such, traffic increases and the impact to road users is considered to be negligible," it said.
However the health assessment cited modelling that showed the extra trucks would still contribute to congestion on the road.
It recommended the company ensure truck movements avoided the morning and afternoon peak traffic periods.
Comments are open on the environmental impact statement until June 5.